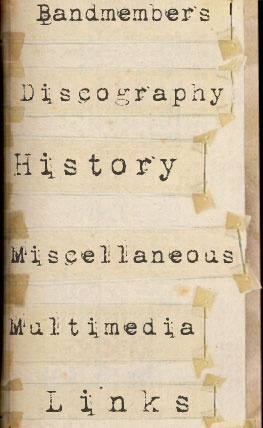 •THE INCEPTION (...OF PUNK COVER BANDS AND BLOOD METAL)

(back to top)

Overkill's bandhistory goes back further than most would expect at first. Even before bands like Metallica, Anthrax or Slayer formed, Overkill members were already kicking ass and taking names. In 1978 already, Carlo Verni (aka DD Verni) and Lee Kundrat (aka Rat Skates) played in a punk outfit called "The Lubricunts". The band broke up in 1980 however, with Verni and Skates trying to get a new project off the ground. Verni set up a newspaper ad to which Robert (Bobby) Ellsworth responded. Ellsworth, at that time, handled bass and vocal duties in

his cover band D.O.D. but wanted to concentrate solely on singing in the new band. The frontman spot was now covered. After several name changes (f.e. Virgin Killer) the band - all avid Motörhead fans - simply named themselves after their favorite Motörhead album : OVERKILL

In the beginning, the band (still under the Virgin Killer moniker) played punk covers exclusively. There were 2 guitarists (names unknown) in the band when they started playing together in 1980, mostly doing songs from Motörhead (Ace of spades album in particular), Iron Maiden, Judas Priest, Riot and the like. At one point in time, a certain Dan Spitz was also part of the game. The time as coverband heavily influenced the style and the sound of the band, as can be heard on the first few Overkill albums that are chockfull of Priest- and Maiden-reminiscences.

Dan Spitz left the band in 1981, later on to join the ranks of Anthrax. His replacement Rich Conte, formerly active in "The Dropouts", brought with him a guitarist named Bobby Gustafson, who completed the twin guitar lineup.

From now on, the band started writing original material. Songs like "Grave Robbers" (later to be renamed to "Raise the dead"), "Overkill" or "Unleash the beast within" were written during this period. "Blood Metal", as Overkill tagged their style, was born. Other songs like "Death Rider" (1981) and "Rotten to the core" (1982) soon followed. Rich Conte decided to leave the band, Gustafson however stayed and took over all guitar duties. This lineup was to remain stable for the next several years. The band started to attract attention with their music and soon played their first gigs in

New York and New Jersey. Back then Bobby got his nickname "Blitz" from DD, as Bobby could not handle the quick success, resulting in him becoming much too euphoric and even getting kicked out of the band for several days. In the same period of time, the green Overkill-logo was created.

The band's logo was to be shown on a promo poster, and since most bands had red logos Overkill decided to separate themselves from the rest once again and had their logo printed in green. This green logo would become an Overkill trademark over the years. Another new part of Overkill's concept was a band mascot - Maiden had Eddie, Helloween a pumpkin and Overkill designed "Charly" - a skull with batwings.
• ASCENSION (DEMO, METAL MASSACRE, EP)

(back to top)

Between March and September 1983, the legendary "Power in black" EP was recorded in two separate studio sessions. The first tapes had been sent to local radio station and metal mags, which allowed the band to spread their music quickly and sell over 1000 copies worldwide. The tape was also well received in the tapetrader underground and soon became one of the most sought-after demo tapes, apart from being a hot topic in the scene.

Seite A:
1.Overkill (3:23)
2.The Beast Within (4:05)
3.There's No Tomorrow (3:35)

Seite B:
4.Deathrider (3:50)
5.Raise The Dead (3:13)

In 1984, hard work started paying off. "Death Rider" was featured on the fifth issue of Brian Slagel's "Metal Massacre" sampler, followed shorty by "Feel the fire" on another sampler called "New York Metal 84".

The band developed (and paid out of their pocket) their first real stage set, introducing Bobby Blitz's black cape, in May. Overkill stageshows became more and more complex and "bombast-laden" which led to a rise in both the popularity of their gigs as well as the band's performances. Their popularity rose to such a degree that the band could be seen performing on NY and NJ cable TV.




The band recorded a self-titled EP from October to November 1984 in the "Venture Sound Studio" in New York, financed by a small label (Azra/Metal Storm Records). Said label though was so short on money that the EP's planned cover was reduced step by step until only a green logo on a black background remained. The release was also heavily delayed - it took the label until July 1985 to produce and distribute 4000 copies. Overkill never earned any money off the revenue of this record and quickly left Azra/Metal Storm Records.



Seite A : Rotten to the Core, Fatal if Swallowed
Seite B : The Answer, Overkill

Today this EP, just like the "Power in black" demo, is almost impossible to get. On eBay and Metal Markets, ludicrously high prices are being paid for both releases - owners should consider themselves lucky.
• SUCCESSFUL YEARS (ALBEN, TOURS, VIDEO CLIPS)
(back to top)

With the extremly successful "Power in black" demo and "Overkill" EP, it was but a matter of time until record labels noticed Overkill. Already a cult band in tape trader circles, expectations for the first full-length album were extremely high when Overkill signed their first record deal with Megaforce Records. Recorded in the Pyramid Studios NY, the first Overkill album came to be with producer Carl Canedy at the helm. Entitled "Feel the fire", the cover shows the guys in fron of a fire wall. As there was neither money for nor interest in computer generated images back in the 80s, the picture was actually shot with the band
standing in front of a huge wall of fire. During the shot, the musicians had to stand extremely close to the fire - actually close enough that some hair was burnt. In the end, though, it was well worth the effort for a perfectly fitting cover.


• FEEL THE FIRE (1985)
(back to top)

For many fans the ultimate Overkill record. Licensed in Germany by Noise and released in Germany in early 1986, the album started quite a revolution musically. Overkill were just different from most different acts - Feel The Fire has a certain original touch and plenty of raw power. Featuring killer tracks like Rotten To The Core", "Hammerhead", "Overkill" and titletrack "Feel the Fire", the weak production barely matters.

Their first visit to Germany was with the US Speed Metal Attack tour along with Agent Steel and Anthrax in 1986. The Metal Hammer-Roadshow video about that tour remains as a cult item to this day.

• TAKING OVER (1987)
(back to top)

The sophomore-effort contains even more power and speed. Starting out with "Deny The Cross", the band churns out killer riffs and songs by the dozen. Produced by Alex Perialas, the guys also re-recorded "Fatal If Swallowed" off of their classic Power in black-demo, besides continueing the Overkill saga.. the nightmare continues. The first music video was shot for "In Union We Stand", even though the band originally intended to shoot a video for "Powersurge". MTV convinced the band that "In Union We Stand" would be the better choice and another clip could be done in the future, however.

On the accompanying European tour, Overkill opened for Helloween, who were no match for the wrecking crew. A US tour supporting Megadeth and a Japanese tour followed before Overkill returned to Europe in 1988.


• FUCK YOU - EP (1987)
(back to top)

This EP contains songs from the first two studio efforts exclusively, like "Electro-Violence", and features a cover that was originally forbidden in the US. Recorded live in a Cleveland club and without any overdubs, the band managed to ban the raw power and intensity of an Overkill show on vinyl. As said, the PMCR found the cover to be offensive and pressured Atlantic Records to change the cover, delaying the release for an indefinite amount of time. Atlantic eventually decided not to release the record at all. Later on, a Megaforce-sublabel (Caroline Rec.) released the EP but had to cover up the actual cover in a black sleeve. In 1997, "Fuck You" was re-released with a bunch of bonus tracks like the Power In Black-songs and excellent video footage.

On a sadder note, this EP is also the parting gift from drummer Rat Skates and marks the first big caesura in Overkill's history.

Rat intended to get married, which the band was aware of, but nobody had expected him to leave the band because of it. Rumor has it that Rat worked as a truck driver after his departure from Overkill, others say he died in a bizarre gardening accident. Nobody really knows, actually. One Mark Archibole sat behind the kit for a number of gigs, up until the band found a worthy replacement for Rat in Bob Falck (aka Sid Falck). Sid changed from Paul DiAnno's Battlezone to Overkill. Most of you should know Paul DiAnno as the first singer (on album, anyway) for British heavy metal legends Iron Maiden. The guys nicknamed their new drummer

Sid as there already were two Bobbys in the band. Sid actually is an acronym for "serious insane dane", something the band came up with when Sid started drinking eau de cologne on a party after they had run out of beer. Go figure. Changing the drummer also meant that Sid had to learn all of his predecessor's parts, so that the recording of the new album had to be delayed.

• UNDER THE INFLUENCE (1988)
(back to top)

With Sid Falck new in the band, this album turned out to be a tried&true thrasher, dividing the fanbase for the first time. The songs are partially difficult to digest and pretty brutal, the album really shines as far as the sound is concerned. "Hello From The Gutter" being the most stand-out and anthemic track also featured in a music video. Overkill saga, part three.



• THE YEARS OF DECAY (1989)
(back to top)

In "The Years Of Decay", the era of old Overkill should find a worthy ending. Everything just fell into place on this one, from Deny Date's production and the song material, to the comic-style cover. Another very charismatic and unique album. Every break, every chorus and every riff had their place in tracks like "Elimination" or the semi-acoustic title track, up to the annihilating album closer "E.vil N.ever D.ies".


With this effort, Overkill topped themselves and this showed in the ever-growing fan hordes. The success of this album brought Overkill back to Germany, this time as headliners though - a status the band was zealous to justify. To many fans, this tour was Overkill at their best. Bobby Gustafson had to leave the band after this tour and once again, Overkill were left without a guitarist.

• THE DECLINE (THE MUSCOAL DOWNFALL)
(back to top)

E.vil N.ever D.ies - maybe an irony of fate, maybe a hint, but either way the Overkill saga came to an end when Bobby Gustafson left the band in 1990. In it's January '91 issue, Bobby Ellsworth was asked about Gustafson leaving the band by Rock Hard magazine. His version of the events are as follows: Blitz married his longtime-girlfriend after the "Years of decay"-tour and went on honeymoon, when everything was still intact in Overkill. Upon returning, Ellsworth was told that Gustafson and Verni had had a pretty bad dispute and neither of them wanted to play in the same band together anymore. There was no way of getting the two together to talk and work everything out, so Verni and Gustafson made Ellsworth decide who was to stay and who was to leave. Obviously, this was one of the hardest decisions Ellsworth (or anyone else, for that matter) ever had to make. He chose for Verni to stay.

In the same year, Bobby Gustafson got the opportunity to tell his point of view and his version to Rock Hard magazine (50th anniversary edition, article "Eye for an eye"). According to him, several animosities with Verni - mainly of financial nature - and occassional misdemeanor in a live situation led him to act like he did. Gustafson was the driving creative force in the band. The one taking care of album cover designs and writing songs mostly by himself. It is said that Verni double-crossed Gustafson several times, and when Blitz took Verni's side, Gustafson saw himself forced to leave Overkill. For many fans, this was the beginning of the end. With Gustafson, Overkill not only lost their guitarist, but also the creative head of the band and with him the trademark sound and structure of their songs. From then on, Overkill has been on a steady decline from album to album, but this story will be told elsewhere. Ultimately, one has to say that Overkill not only made metal history, but left their mark on it from 1983 to 1989, no matter whether you think Gustafson's departure was for the good or the bad of the band.

E.N.D.

History by Jochen S.O.D (The Webmaster)
English translation by Christoph Zeller